Well, I fell for this, too. It was too cute. And the story – Prince Philip dresses as a palace guard to prank the Queen of England – was enchanting. But completely wrong. Seems a swarm of bees descended on a royal ceremony, perhaps the birth of Saint Ambrosia.
The photo of the Queen giggling with Prince Philip involves bees, say Snopes and the BBC.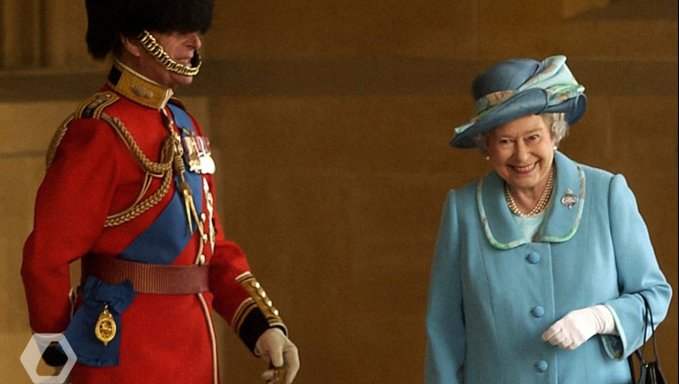 In the wake of the Duke of Edinburgh's death, a photo from 2003 emerged of Queen Elizabeth II laughing with the Duke. Chris Young, the photographer who took the picture, spoke with the BBC about the day, and Snopes also says it was due to a swarm of bees at Windsor Castle during a review of the Grenadier Guards. Photo via @PAImages
No, Elizabeth and Philip aren't laughing because he pranked her by dressing as a palace guard. They're actually giggling at a sudden bee swarm causing a ruckus during a ceremony. "As colonel of the regiment, the duke was standing in full uniform, as he prepared to accompany Her Majesty." – BBC News
The situation was not caused by a prank, but a swarm of bees. Also, Prince Philip wasn't dressed as a palace guard.
The swarm settled under one of those little folding wooden chairs that guests are forced to sit on when they attend events such as this. You can see the swarm and the Beekeeper to the Rescue on the BBC website, here.